Patty's Pottery
RS Laserkits Vicky's Veggies, neatly packaged, the cardboard and the tube are good for protection against breaking.
The contents with the plastic tube where the trims and bracing is in.
Although Rich says warp has not been an issue when not bracing, he delivers it with plenty.
I like the vibrant green that Rich uses for Vickys Veggies so I used an equally vibrant color , Sky Blue from Tamiya.
Matt white trims , doors and windows. Windows and doors are peel and stick, they and the trims fit nicely.
Putting it all together is easy, and before you know it you have the roof on. Note here: The corrugated roof , I went and cut the roof pieces without looking, and I didn't have enough, luckily I had some in my spare box. I stuck the roof using thin double-sided tape ( its the easiest way ). The roof was weathered using various different color powders.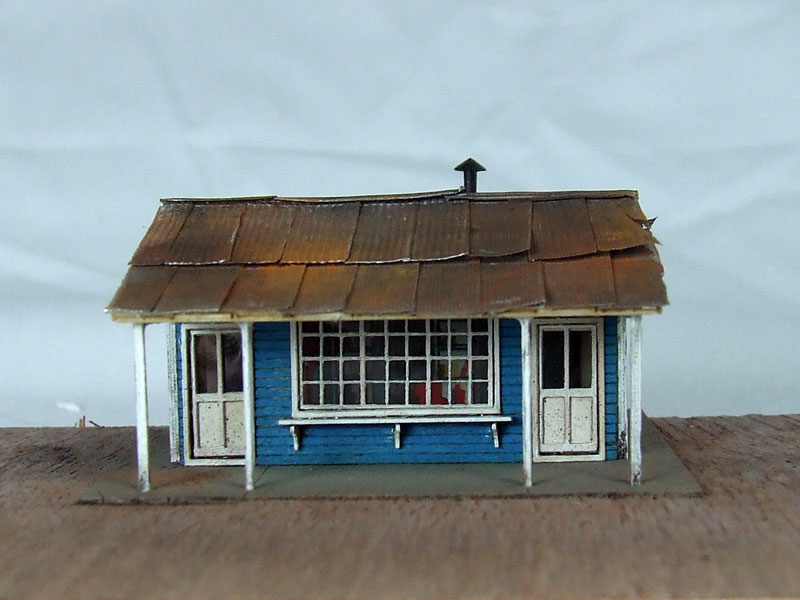 Making use of the base and foundation really makes this go together easily.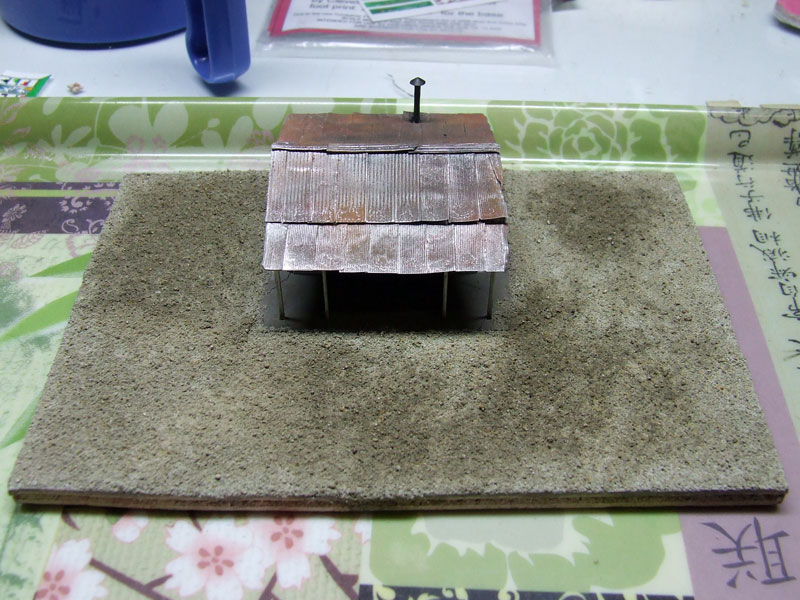 I wanted a gravel and sand driveway. To do this I first painted the board with acrylic latex that I use for all my groundcover. I then mixed silversand with 1/20 black dye powder and 1/20 sandyellow dye powder. I then painted the board again with the acrylic a bit thicker and while still wet ( tacky) I pressed on the sandmix. Then I gently brushed the mix off till there was just a fine layer left. I let this dry for a day . Then I made a mix of dry plaster of paris with the same amounts of dye as the sandmix, this then turns out a little lighter thus looking like real sand. Why don't I then just use real sand, I would have to fix that with glue or something likewise. The plastermix, fixes itself, with a brush I wet the part I want sand to stick and then I just sprinkle the plaster on using a tea-strainer, it absorbs the water and after drying is fixed.
A pottery needs pots outside, I painted several different sizes of beads to do this and the ribbed ones are rooftop ventilators I drilled a hole in and painted.
Added some cars and people.
I used several colors of fine foam for the grass patches and small shrubbery, clump foliage for the somewhat larger shrubs.
This scene will fit anywhere on a rural part of my layout.