Nabisco
This is the former Nabisco building behind and to the left of Kansas City Union Station, it is now an appartment building. I will not be doing a prototypical build, but will try to give the feeling it is this building. There are many pictures of this building as it is today but I have found only few of the past. I don't think it looked as fancy in the past. If someone knows this building well and says it doesn't even come close when I am finished , so be it.
First I sought out the windows and doors I wanted to use.
Of course when fiddling around I found others better to my liking.
Cut strips of wall, using the Duplicator , this works fast and easy, but when I have the money for it I will get the original from NWSL, the Chopper I have from them is far better quality then the knockoffs.
Ground floor that will stick out from the rest of the building, ready for painting.
Glueing the brick walls
Painted the bick walls and , fitted the sills.
Fitted the windows , next the walls in between the windows.
Time is really an issue when doing tedious things , all the small peices of wall onbetween the windows have to be made to fit one by one.
Almost finished with the first wall, now that it's starting to look like something I'm starting to like cutting all the little pieces.
Other view
This is the wall with the lower floor that will stick out a few yards in front of it. I like my macro lens , but hate that it shows every small flaw.
Did some work on the 2nd wall and the chimney.
The half round brickwork was cut out with belt hole cutter.
Added the left wing and the roof to the lower floor.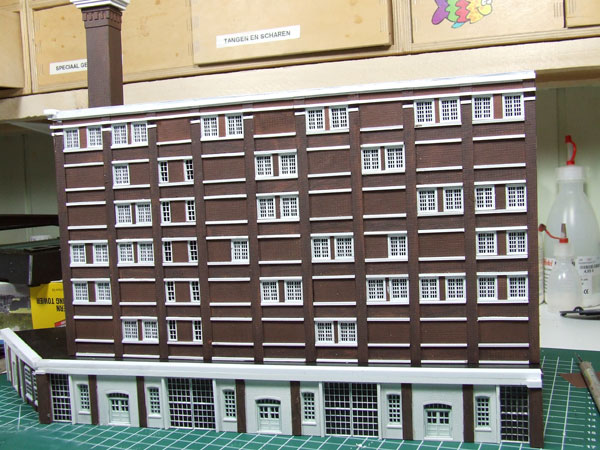 Must say I am pleased with the result, now to finish it with weathering and details.
Built another building for the Nabisco plant using 2 walls from the Red Wing Milling kit from Walthers.
I used 1 complete wall and cut parts off of another.
Found a site with some nice billboards, 3 dimensional billboards, made one for the Nabisco buildings.