Manhattan Kansas
Manhattan Depot and freight house, the build of this is at
Manhattan Depot and Freight House
A few views of Manhattan Kansas , coming off the railroad bridge. To the right is the teamtrack, and a sidetrack for a supply.
To the left the passing track and the sidetrack to the grain elevators.
Added Varneys bookstore, wich I built this weekend to the scene, and a billboard for Kites Bar and Grill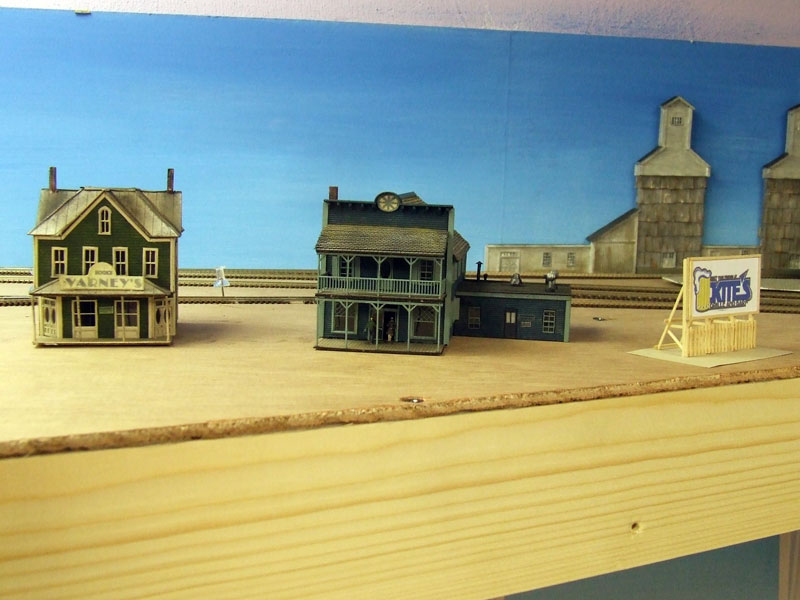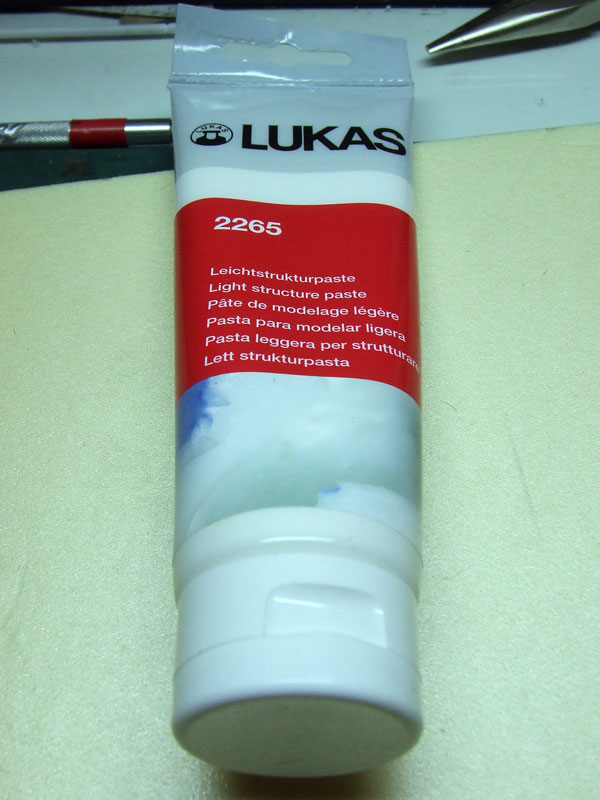 I use this to make asphalt roads, it leaves just a tiny amount of texture and is easily painted with acrylics.
This is the first of several dioramas that will make up Manhattan Kansas. The concrete sidewalks are Bar Mills. The brick sidewalks are styreen sheet material from Slaters.
Styrene curbs added.
Close up.
Very fine sand colored with black and burnt umber dyes, glued with diluted white glue.
Added grass with the
homemade grassmaster
More grass at the sides of the buildings , a fence at the back, and the next piece ready to go.
In the meantime I placed the Keystone Mill ( don't know the name that it will be on my layout yet ) on the layout.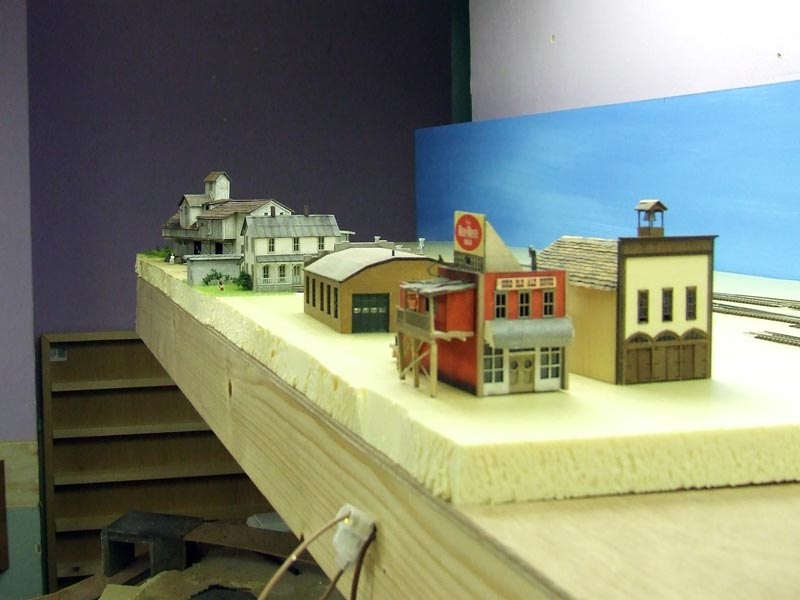 A few more views.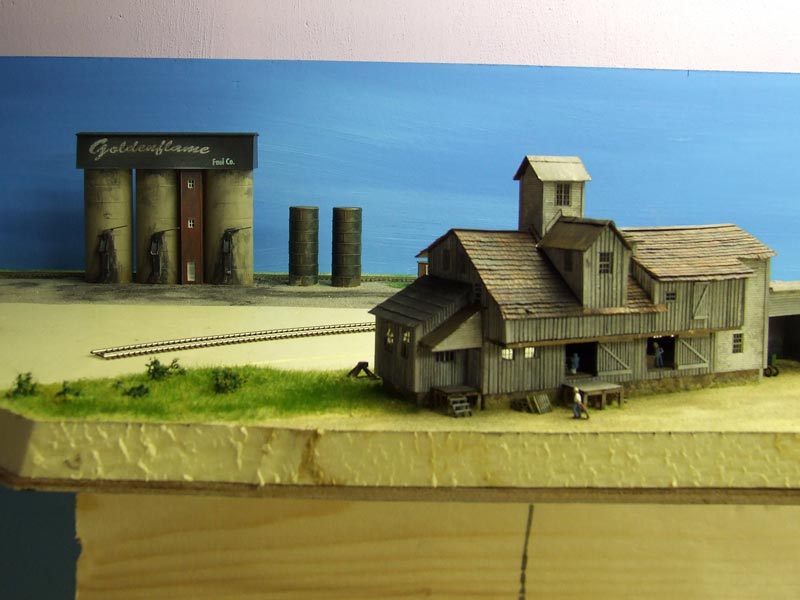 Overviews of the differnet dioramas put together , Manhattan will soon be a fully operational town.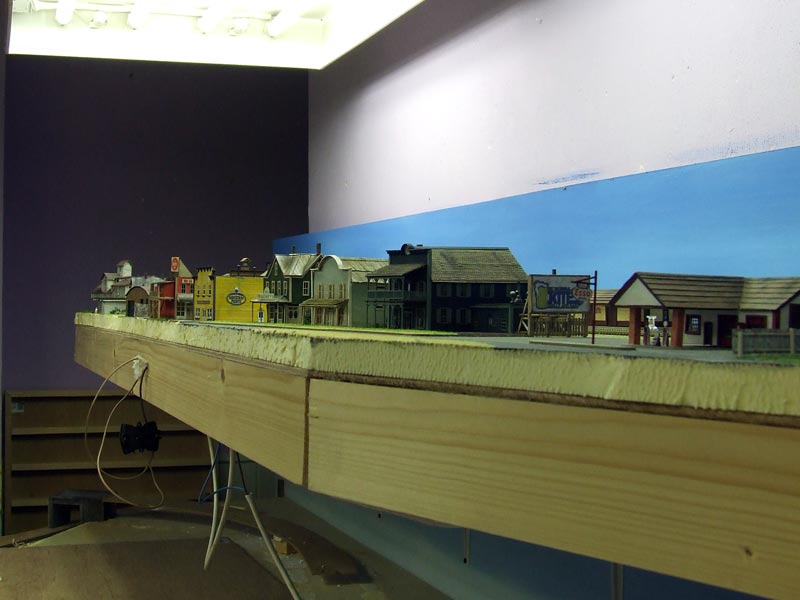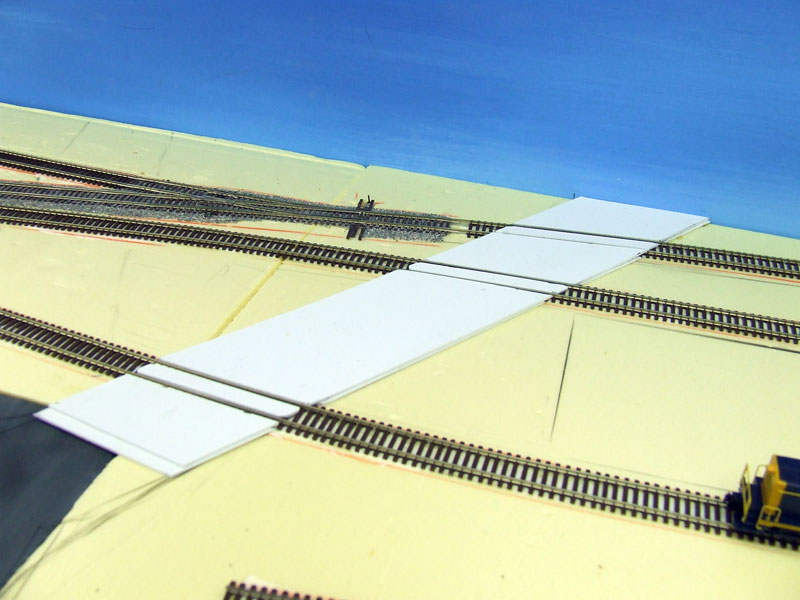 Started building a crossing near Manhattan Depot, styrene to highten the road.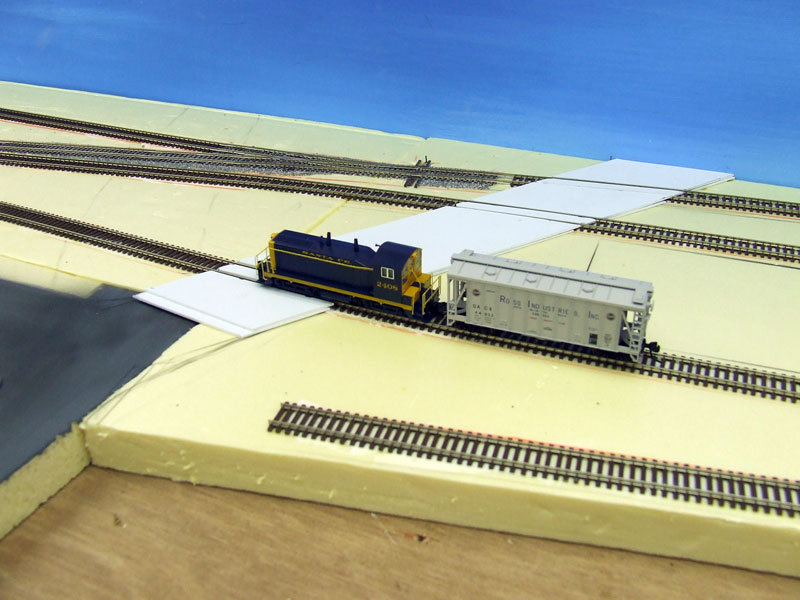 Making sure everything fits.
Painted grey and road bedding made.
An overall picture of the depot area , with newly laid grass, with my homemade grassmaster. The sand also done by first painting and then spreading the sand over the still wet paint, let dry a minute or so and then vacuum away the sand that has not been soaked by the paint.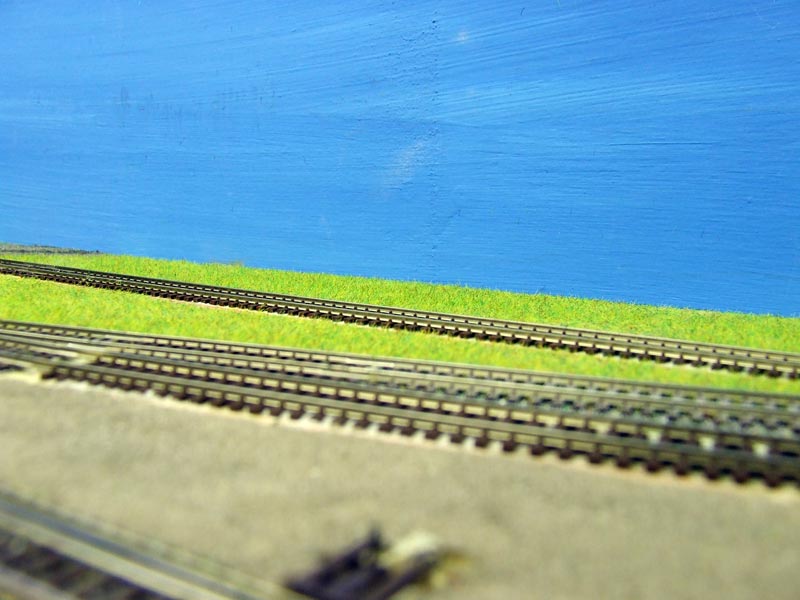 Did some ballasting today, these are 2 pictures from before.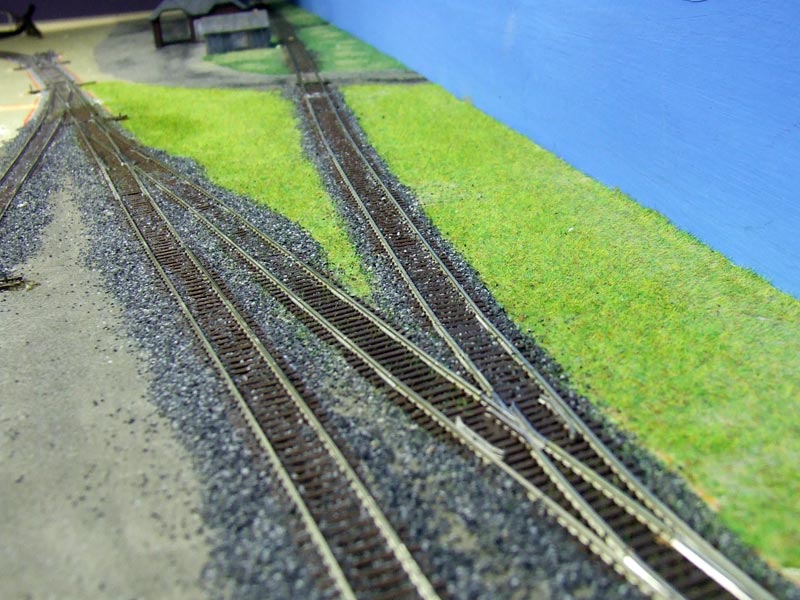 These 2 are after, not one of my strong points ballasting, I guess for a smaller division line this would be okay , but before I ballast large mainlines I will have to practice, tips are welcome.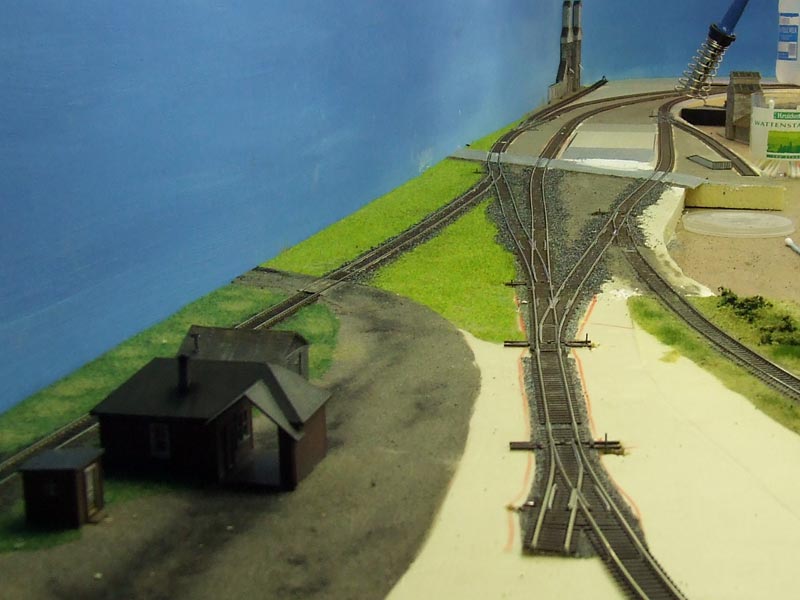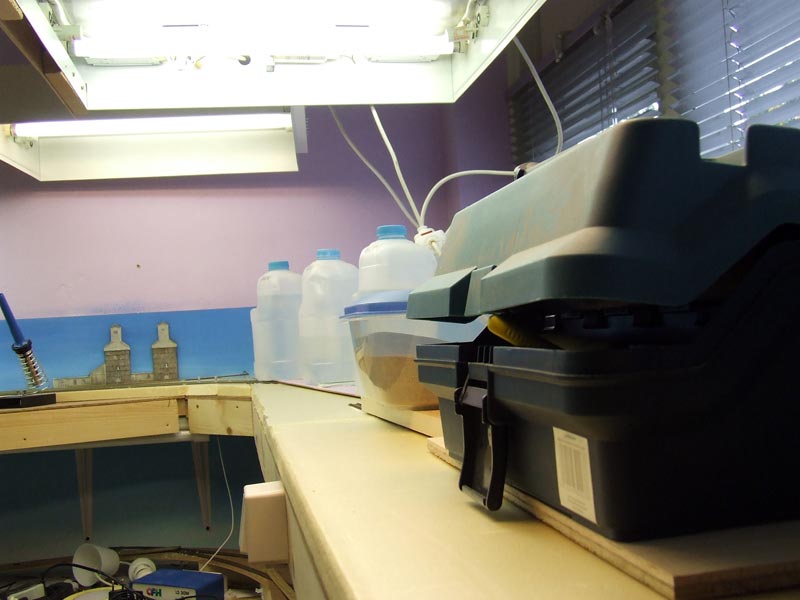 Also laid some track, here it's held down by plastic milk bottles filled with water and my (track)toolbox, I have a few toolboxes for different jobs, so when I decide to do a certain job I'm almost immediately set to go, except for a few tools that are needed on all jobs.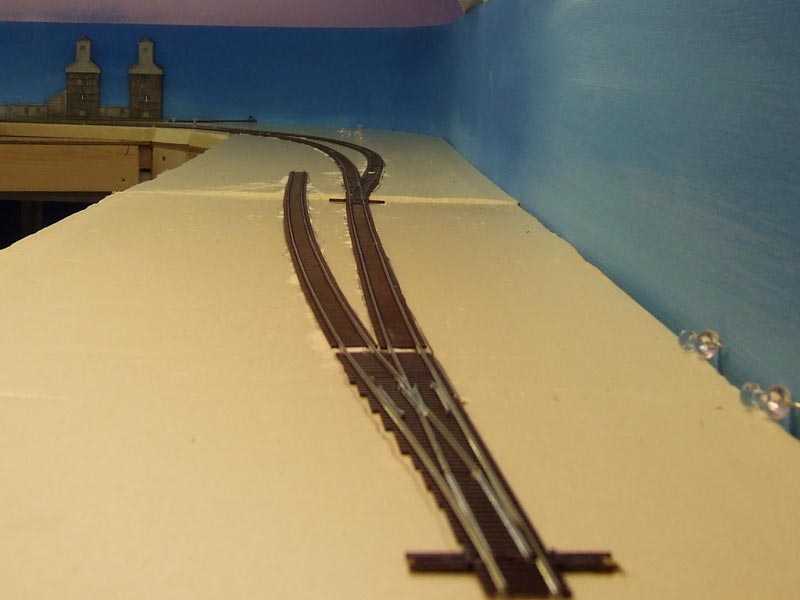 Thinking about ways to make this.
The backdrop of Manhattan was a little empty so I built a car dealer and added some trees and bushes.
They're selling my favourite car.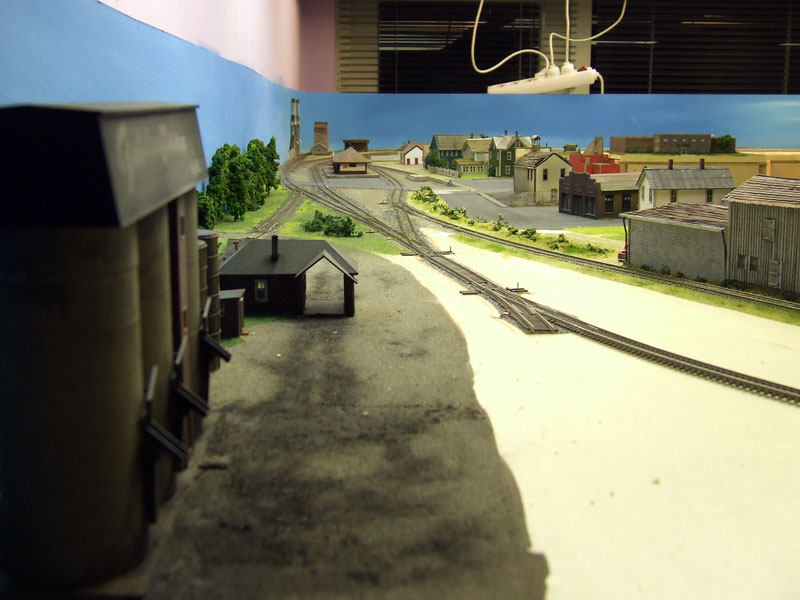 Views of Manhattan, from the coal company.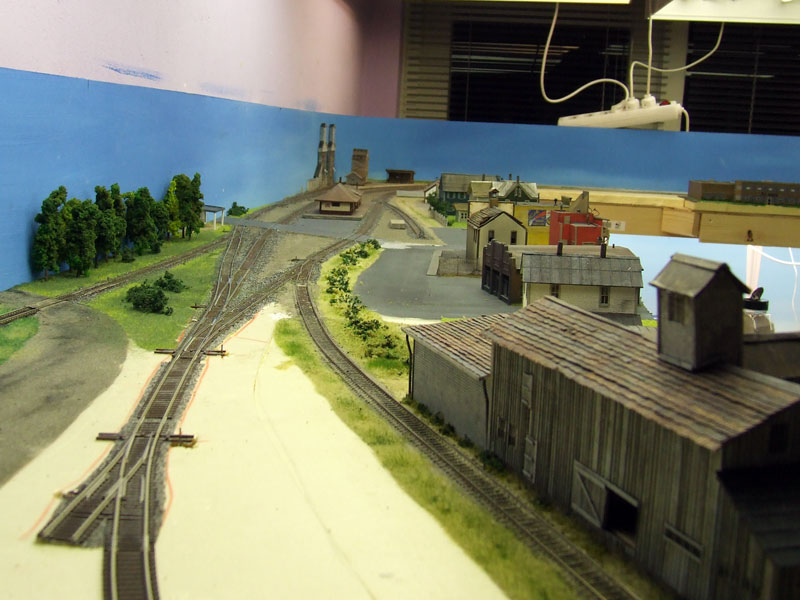 From the Mill
From Varneys bookstore over the teamtrack to Freds autodealership.
From Kites Grill and Bar to the Depot.
Various photo's of installing a background to Manhattan Kansas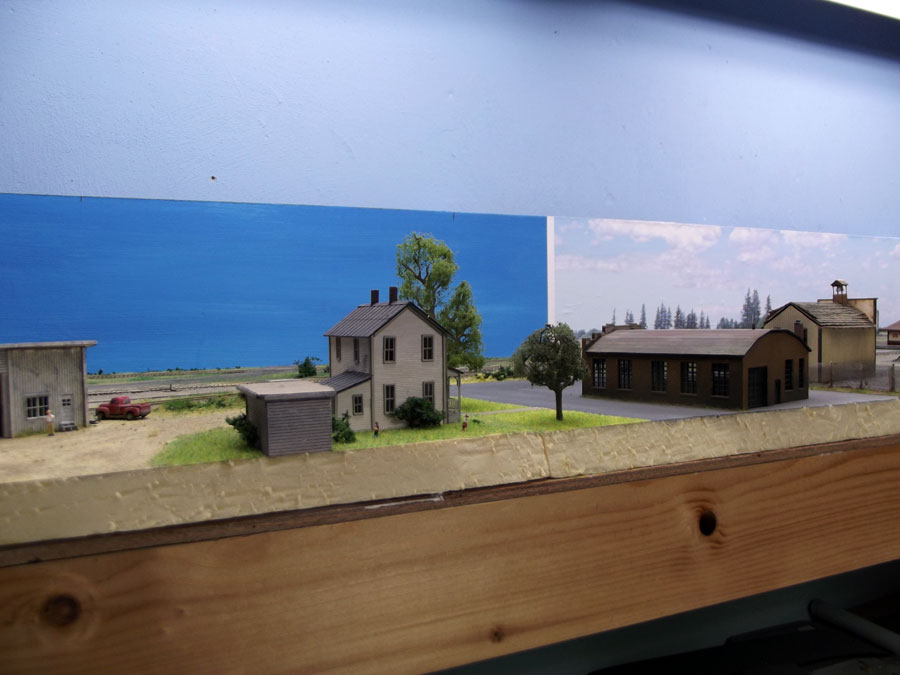 After installing the background I finished up sceniking it , grass, trees , the roads, here an impression.