Double Covered Watertank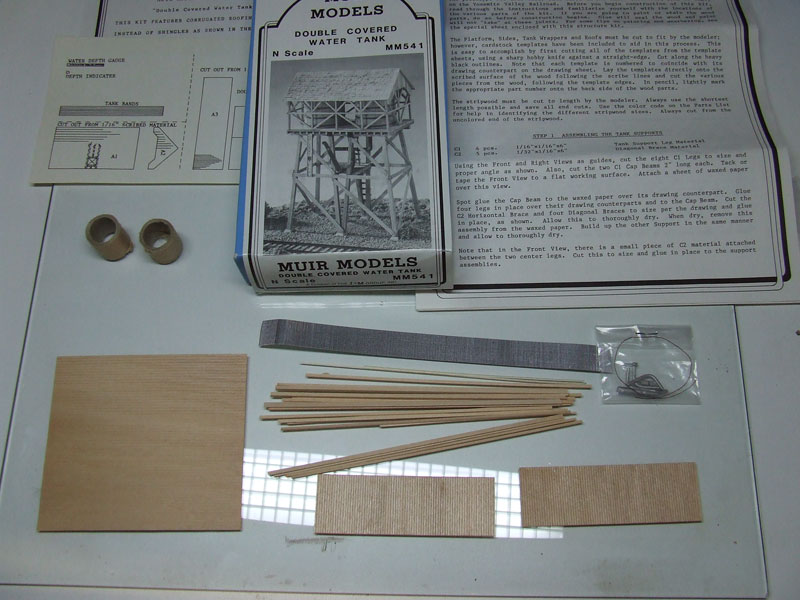 As I found out I liked using The Chopper, I decided it was time to build Muir Models Double Covered Watertank, lots of chopping to do. So here's the obligatory contents.
Cutting the underframe using the scale template.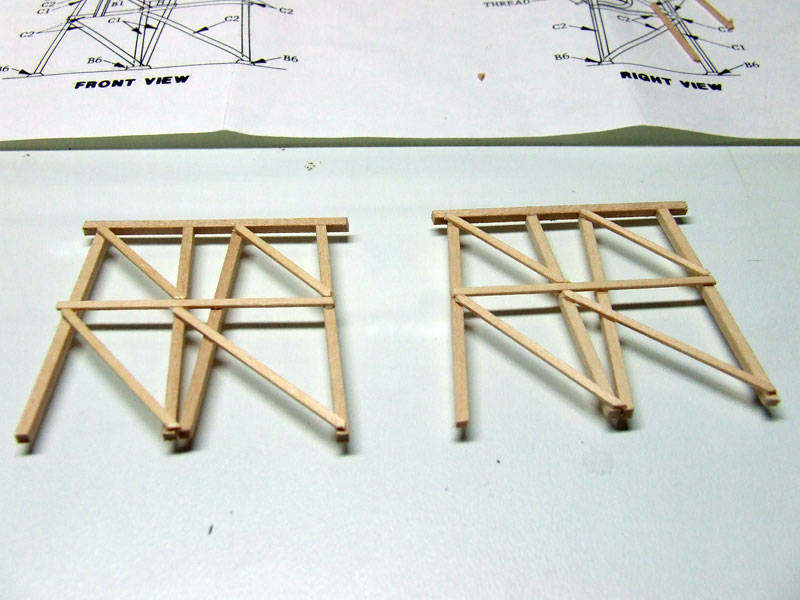 Glued them together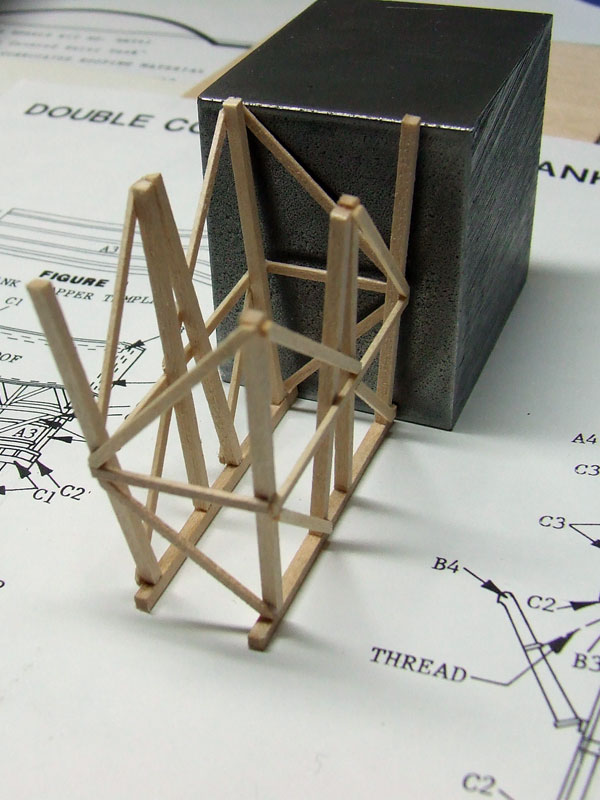 Added the sides, the steel block is one of 4 given to me by a friend they're 4x5 cm, perfect square corners and weigh a pound each making them very useful tools.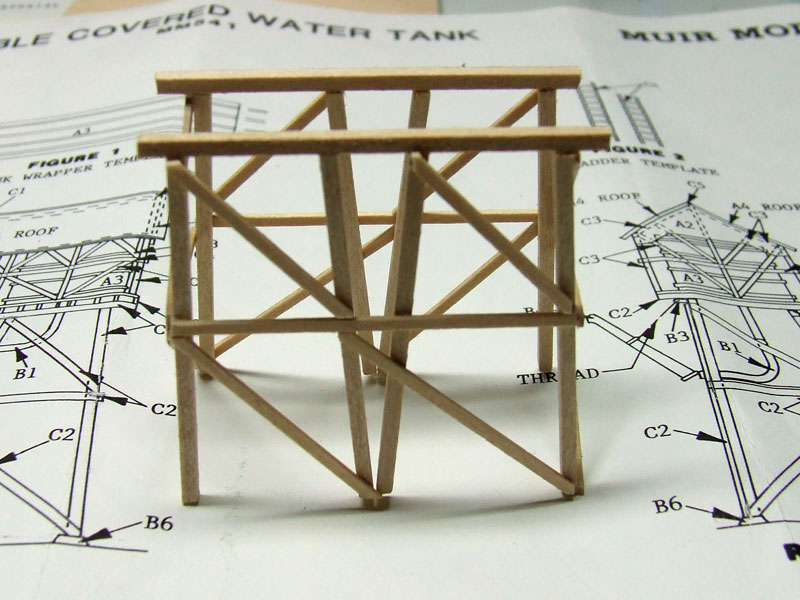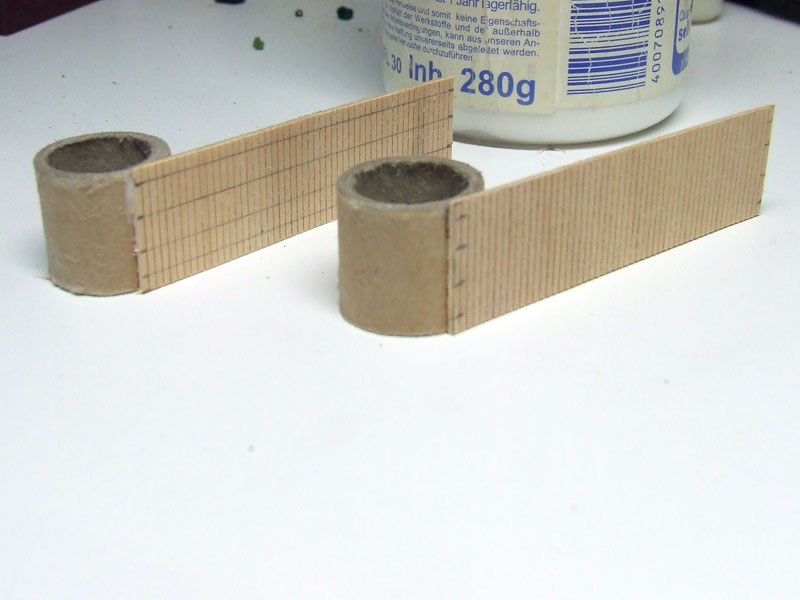 Gluing one end of the scribed watertank covers to the round core.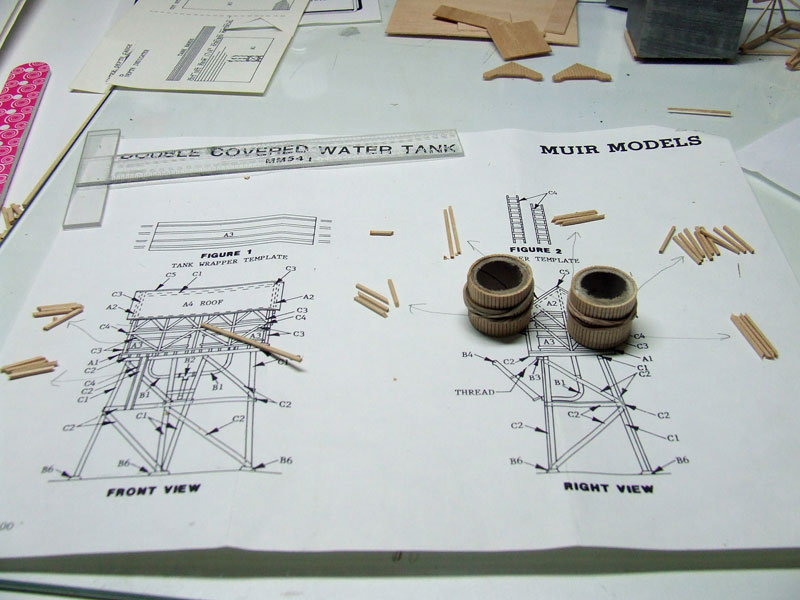 Both glued and fastened with an elastic band, on the scale template sheet lay the awaiting beems etc. for the roof and balustrade construction.
Sides cut and glued together, using the template, used transparent paper, didn't work as it should because it glues to the wood. Googled and phoned for waxpaper, somehow nobody has it, but an art store that I inquired for the waxpaper said he might have something better, he'll let me know shortly.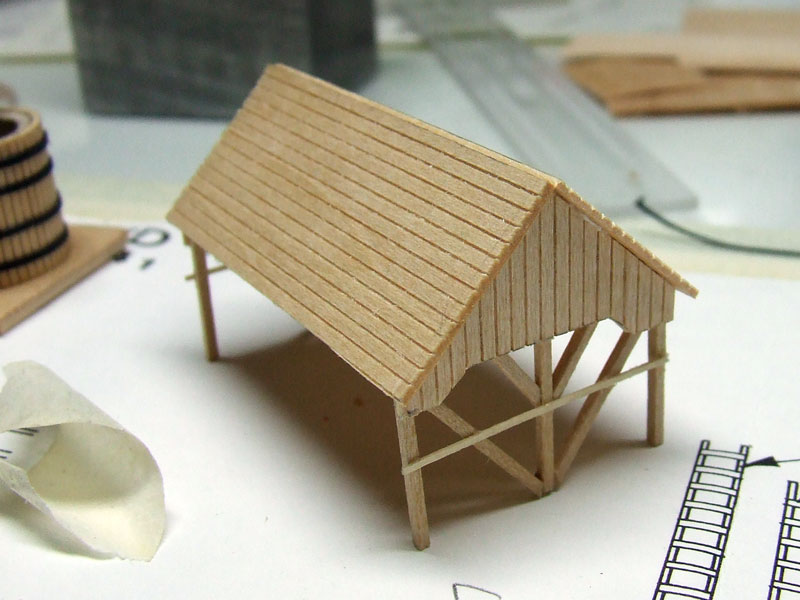 Glued the roof on , this will make it easier to fix the front and back framing of the upperdeck.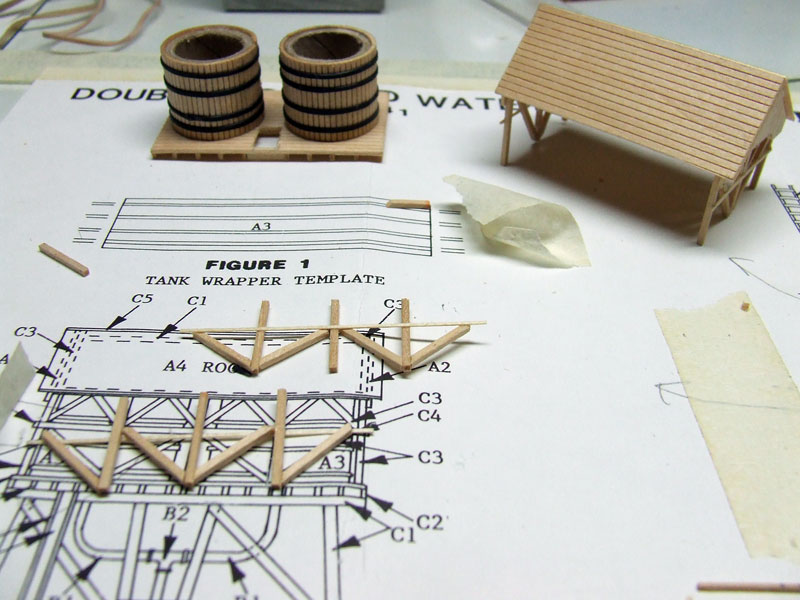 Cutting and gluing upperdeck front and back frame.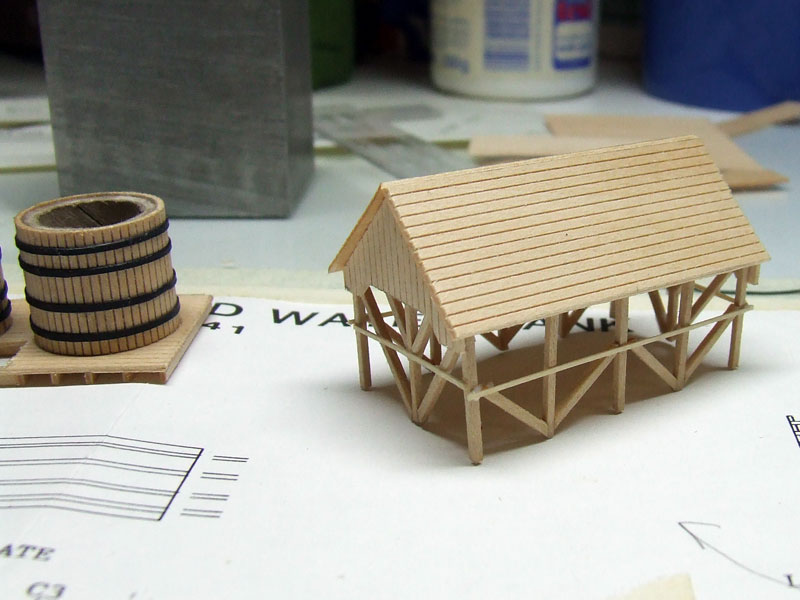 Front and back upperdeck framing fixed. The water tanks have steel belts ( black linnen paper ). Tomorrow some A & I with brown Ink.
Washed with brown A&I ( ink is for filling markers , I have a sand and a brown color )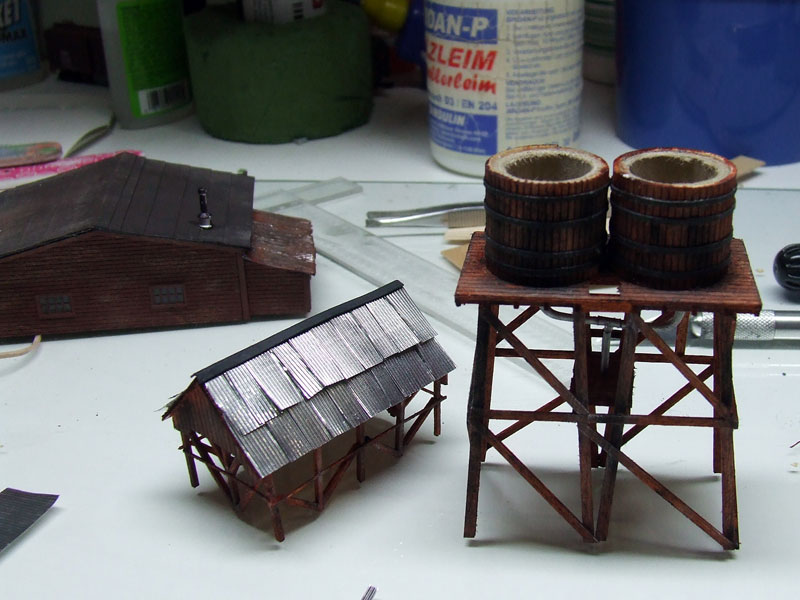 Corrugated roof in place, the structure to the left is also a Muir Models kit I made a long the waywhile waiting for things to dry etc.
The finished ??? structure, I'm not exactly sure where it will go on my layout yet so I won't be doing detailing and gardening just yet.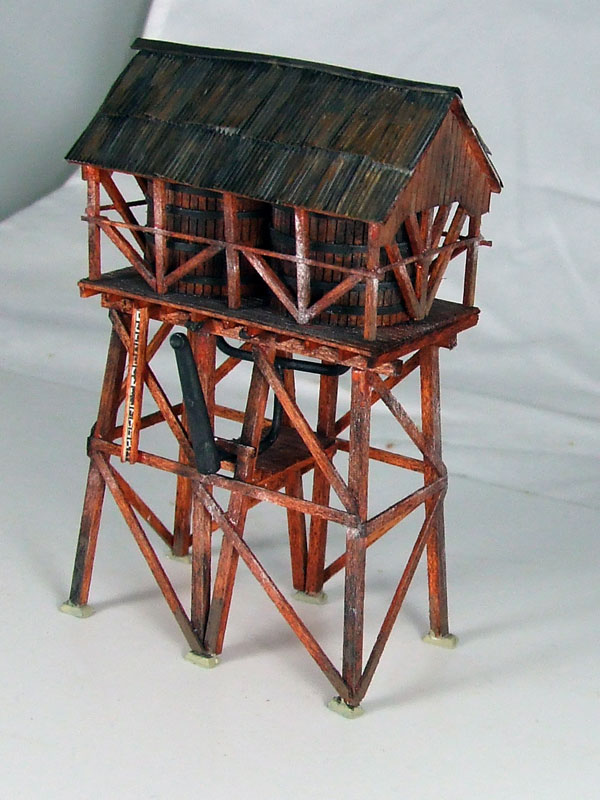 In addition to the double watertank I also am adding a single tank to my layout.
A jig for the trestles.
The tank itself , there is a handy jig to do the bands in the kit.
More work on the trestles.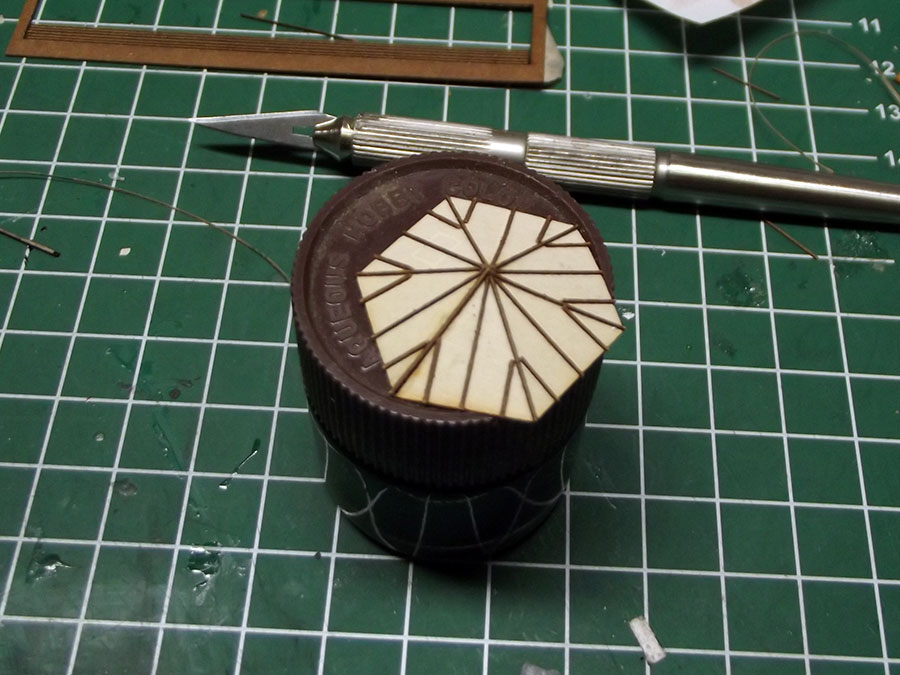 The hexagonal roof , I used leftovers from the bands to use as battens.
So this is what happened next, I gave the whole structure a wash of A & I and then glued on the tank, and put a weight on it to hold down the tank. But because of the A&I the glue of all the trestles weakened , so this is how I found the structure the next day.
So what to do , build the trestles again using the jigs or try to repair the trestles, I chose the latter.
And this is how it looks like after 2 days of repairing and patiently waiting.