Manhattan Wharehouse
Gloor Craft Models/ Muir Models Store and Wharehouse, neatly packaged, scale drawings and easy to follow instructions.This will be a wharehouse in Manhattan.
The contents , as you see all of the windows are to be cut out. This is almost a scratchbuild.
Windows cut out, and sanded to a snug fit.
I used more bracing then provided with the kit, I think it needs it especially the way I'm going to paint this kit.
This is my way of placing the rafters, the template is underneath a glass plate, I place the roof board against the glass plate. The rafters, cut with a NWSL chopper are then placed with a bit of wood glue while pushing them against the glass plate an down, this lines them up really easy and straight.
I forgot to take pics of the walls when paunted, I will tell you later how I painted them. This is a pic of assembling the walls square with a magnetic jig from Micro Mark.
While building this kit I came to the conclusion that these were together with the exacto knife my best tools and most worth the money, MWSL chopper ( hours of cutting done in minutes ), very good tweezers ( don't be cheap on these ) , and my glueing tool for white glue, no I don't use toothpicks anymore for white glue, this is a microbrush with the brush taken off, its more pointed then a toothpick and you can use it over and over again , the plastic doesn't adhere to woodglue, all it takes is a rub between tour fingers.
I painted the walls using pigmentpowder mixed with water, the wood picksup the mix and after drying it leaves the most Matt finish you can get. As long as I don't fixate it , I can still rub off the dye to bleachen it.
I did the rest of the rafters.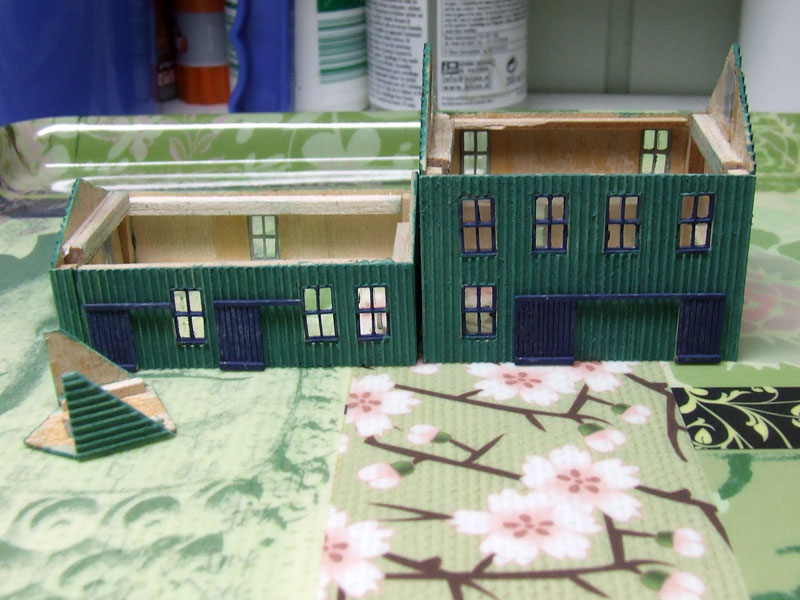 Fixed the doors and put together the walls. I can't believe how much more the camera lets you see the little mistakes and not so neat pieces of paintwork, I can hardly or not see these with the naked eye.
The kit contains sheets for the roofing, I made the shingles as seen in the picture, using a paper jig.
The result of handcut N-scale shingles.
The 2 story building gets tarpaperroofing.
Built the platform and floor. Then painted and weathered the roofs. Some pictures from different angles.