Backdrop Flats
Cut out a piece of black styrene as a base. The piece of wall with the windows is cut out from Walthers Modular walls.
Sheet of Slaters Plasticard
Cut out windows and placed styrene strips where I thought the floors were going to be.
Placing strips to emborder the windows.
Cut away parts of the wall because the stories would be to high. Cut out small holes for top windows.
First painted all the parts seperately then placed walls and floor strips on top of clear plastic strokes , then placed the windows in the frames.
Next parts will be two towers left and right with a clock , like in this picture
Some pieces of wall, styrene strips carved to imitate stone blocks, left without right with Tichy and Grandt Line windows, I used H0 windows for this N-scale project. Now of to the painters.
While I'm looking for a suitable clock for the towers I've worked on another building.
Which is coming along fine aswell.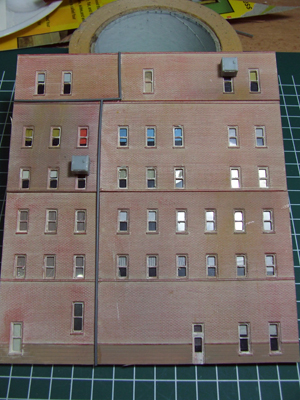 This one is made from leftovers of DPM kits, I hid the seams with some rainpipe.
Part of the backdrop , just trying out several arangements.
The Rix Products bridge will ease into the backdrop behind the buildings.
Another scratchbuilt backdropbuilding, this time low relief.

While waiting for some supplies for the Nabisco building I started this building.
Don't know what it will be yet.
Maybe part of the Nabisco complex.